Kennys New Release I WILL SURVIVE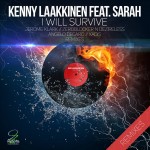 Hi Leute , das ist meine neue Single I WILL SURVIVE ! Ein cooles Cover des alten Discoklassikers damals gesungen von Gloria Gaynor ! Diesmal im Style von NuDisco! es lohnt sich es zu kaufen bzw. einmal reinzuhören!
Hi guys , this is my new single I Will Survive! A cool cover of the old disco classic then sung by Gloria Gaynor! This time, the style of nudisco! it is worthwhile to buy it or a listen again!
Salut les gens, ceci est mon nouveau single I Will Survive! Une couverture fraîche de l'ancienne discothèque classique puis chanté par Gloria Gaynor! Cette fois, le style de nudisco! il est intéressant d'acheter ou écouter à nouveau!
Привет народ, это мой новый сингл I Will Survive! Прохладный крышка старого диско классика, то в исполнении Глория Гейнор! На этот раз, стиль nudisco! стоит купить или слушать снова!
嗨伙計,這是我的新單曲我會活下去!舊的迪斯科經典的酷蓋,然後由格洛麗亞·蓋納·唱!這一次,nudisco的風格!這是值得購買或再次聆聽!
こんにちは人々、これは私が生き残る私の新しいシングルです!その後、グロリア・ゲイナーが歌う古いディスコクラシックのクールなカバー!今回は、nudiscoのスタイル!それを購入したり、もう一度聞くために価値があります!