Album "Hands Up!" für Under Burning Skin
Nach gut 8 monatiger Arbeit nähert sich  das neue Album von Under Burning Skin aus Erfurt seinem Ziel. Kenny wurde verpflichtet, ihren sound in neue Bahnen zu lenken! herauskommen wird ein farbenfrohes Modern Rock/New Metal Album mit jedemenge elektronischen Einflüssen!! Wer das Ergebniss Live erleben möchte der kann am 27.9.2014 zur Releaseparty von "Hands Up" in den Club From Hell nach Erfurt kommen! Dort wird  exclusive das Album als CD erhältich sein!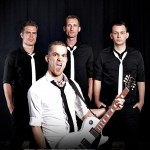 ---
After about 8 months of work, the new longplayer from Under Burning Skin from Erfurt approaches its target. Kenny was obliged to steer their sound in new directions! will come out a colorful Modern Rock / New Metal album with lots of electronic influences !! Who wants to experience the result of Live may come in the Club From Hell to Erfurt to release party of "Hands Up" on 27.09.2014! There, exclusive longplayer will be available on CD!